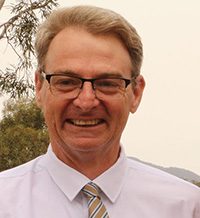 John has operated Remarkable NRM, since 2011, specializing in NRM services and solutions for Regional NRM organisations across Australia. John has over 25 years of broad and practical work experience with community based Natural Resource Management (NRM) through a number of positions across Australia. He has extensive expertise in this field and demonstrated experience within Australia and the Solomon Islands. He has supported a number of regional NRM bodies across Australia with strategic planning and project development. John works with communities to undertake NRM projects at a local scale. His interest in sustainable development led to his previous roles as General Manager for the South Australian Arid Lands NRM Board, from inception to 2011, where he was responsible for strategic development and delivery of projects dealing with grazing land management, water, vegetation, soil and pest management activities, through a community engagement framework. John has served as a board member for the Regional Development Authority for the Far North of SA and is currently CEO of Cape York NRM in Queensland.
John's passion for NRM is well known across the rangelands of Australia, and his extensive networks recognise him as a trusted adviser to many NRM organisations and individuals. His expertise and experience in this field is the result of a broad and practical work history with community based natural resource management
He is passionate about community based natural resource management and has volunteered in a remote part of the Solomon Islands, helping communities to manage and develop their traditional lands. John supported the newly formed Tawatana Community Conservation Development Association to put in place strong, trusted leadership and correct governance processes to develop a strategic plan that would work for the Tawatana community.